Koizumi marks 5 year, taking a dark turn
2006年 04月 27日
Koizumi marks 5 year anniversary as Prime Minister on April 26.
Though announcing that he will step down in September, he still enjoys a public support rating of more than 40 percent.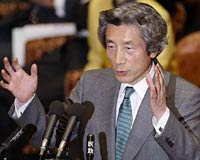 He is far different from the previous
Japanese premiers. He is very good at
handling media, picking issues timely
and appealing to the public with terse
radical slogans with such as "smash
Liberal Democratic Party (his own party)" and "change Japan!"
The climax of his talented skill was shown in an overwhelming victory in a
general election last September. Over objection from LDP cadres and contrary to expectations of most commentators, he dissolved
the Diet on the day the postal reform bill was rejected and made
a clear speech to explain why he dissolved the Diet and how
important to reform the
postal service on that night, which was very impressive.
While Koizumi is good at making political issues however, he has left
the reform unfinished as well as the critical issues untouched.
He also too simplifies the issues. For example, while he has
tightened Tokyo's relationship with the United States, he has
led a sharp deterioration in relations with China and South Korea.
The result of the April 23's Lower House by-election would be a
corner point of the Koizumi's political fortunes till September when
he is saying to step down. The candidate of the beleaguered
opposition Democratic party finally won the election by a slim margin. Besides the fierce battle between the two parties, there was a real contrast between the two candidates; Ken Saito, LDP's candidate, a Harvard graduate, has sufficient background including director of METI, secretary to Minister and vice-governor while Kazumi Ota, 26 years old, high-school educated, female, ran a campaign with "society with no loser" slogan after reported that she used to work at a sex-related business.
Newspaper reports that some LDP supporters voted for Democratic
Party, though not mentioned if they wanted to vote for the party or
the candidate.
Till this local election, the greatest concern was who would be a
successor of Koizumi in LDP. Now it comes to be more complicated
and I am expecting how Democratic Party will hold out against
Koizumi building on this momentum.
by yokopw | 2006-04-27 23:48 | in English